The customer service experience should be smooth and painless. Agents need to move through their work efficiently, with as few unnecessary interruptions as possible. Ideally, an agent should be able to solve the problem in front of them quickly and easily. That's the advantage of Eccentex's integration with Genesys Cloud CX, Multicloud CX, and PureConnect. Eccentex ServiceJourney allows agents to handle tasks of any complexity with resources immediately available to them. Using Eccentex ServiceJourney within your Genesys contact center gives a richer user experience.
Customized Solutions Using Eccentex Low-Code
The out-of-the-box ServiceJourney solution enables companies to meet rising customer expectations in the future. It provides world-class case management capabilities tailored for customer service. Additional custom apps can be created with Eccentex ServiceJourney, and even companies bogged down in technical debt and legacy systems can navigate to a better way of working.
The need for new products and features often hits considerable obstacles when legacy systems can't accommodate new offerings and can't meet customers' expectations. The combination of Eccentex and Genesys represents a new approach for customer service solutions, in which siloed operations, manual tasks, and legacy systems are relegated to the past, and an integrated customer experience is achieved.
Combining Genesys Desktop with the low-code capabilities of Eccentex means even non-technical team members can configure applications using visual drag-and-drop tools and guard rails.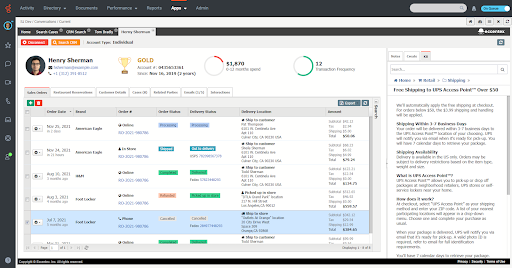 How to get a unified desktop
Eccentex ServiceJourney aggregates relevant customer information from your core systems, interaction data, and cases into a 360-degree view. Customer information is also dynamically displayed based on the customer context and current situation.
Eccentex ServiceJourney attempts to identify the customer immediately before an agent begins interacting with them. If successfully identified, the agent is automatically shown the unified customer profile inside of their Genesys desktop at the start of real-time interaction (e.g., phone call, chat, SMS chat, …). If the customer can't be identified, the agent can try to manually search for them or create a new one.
A Unified Experience
Eccentex ServiceJourney delivers a single, unified, familiar interface for customer service employees, addressing key customer service functions. The application automates or intelligently guides agents through each step of customer interaction in any channel to quickly address individual needs and questions while also rapidly and continuously evolving the broader customer service experience.
Genesys ServiceJourney helps you address three key principles driving your digital transformation:
Customers:

 

Increase customer satisfaction
Reduce customer effort and increase First Call Resolution (FCR) by exceeding customer expectations for a single, consistent conversation – whether it's through social, mobile, chat, phone calls, or in-person visits.
Employees:

 

improve productivity
Simplify and augment the agent experience by consolidating all their applications in a unified desktop so they can work faster. Provide a step-by-step guidance to solve customer issues efficiently. Automate common, repetitive tasks to connect front and back-office operations so that agents can focus on higher-value, high-touch interactions.
IT department:

 

Deploy rapidly and continuously innovate 
Make it easier and faster for your IT teams to understand changing business requirements, such as new products, channels, devices, policies, and procedures, into working customer service applications.