AI-Assisted Email & Case Management for Genesys
On-Demand Virtual Webinar
Revolutionize the way you deliver excellent customer
service with low effort, high efficiency, and low cost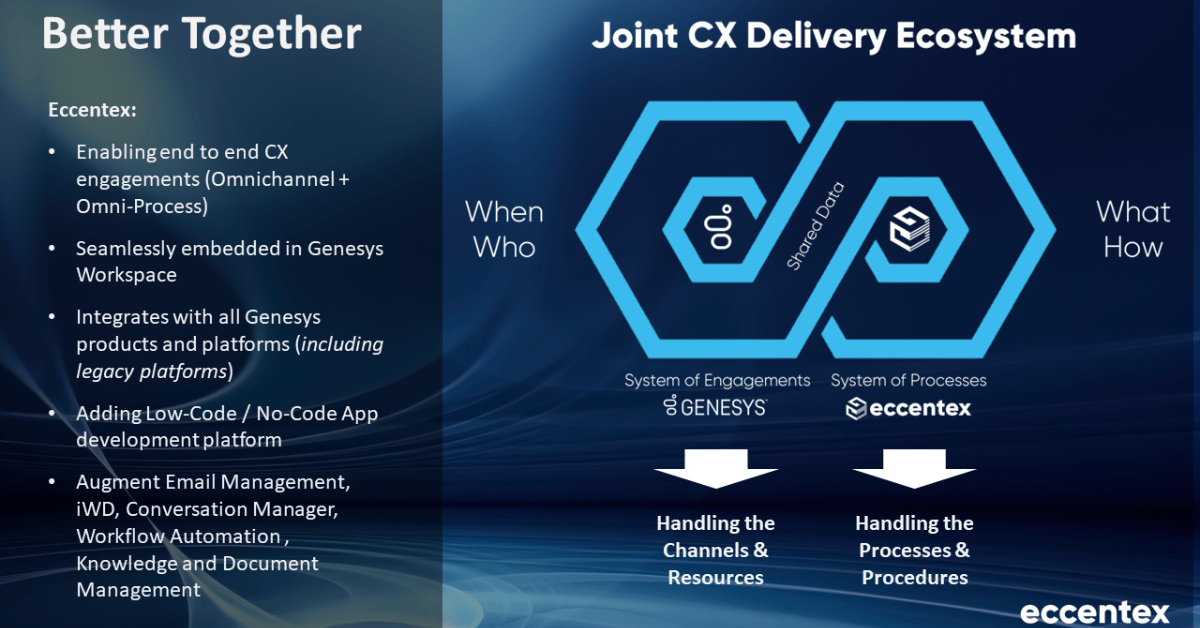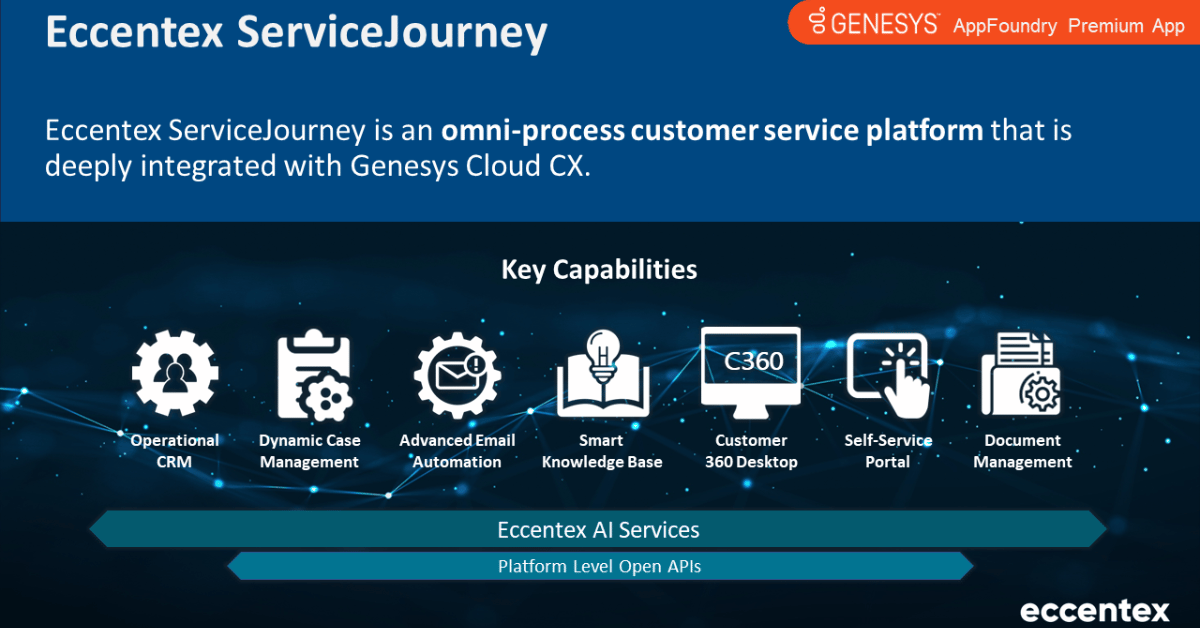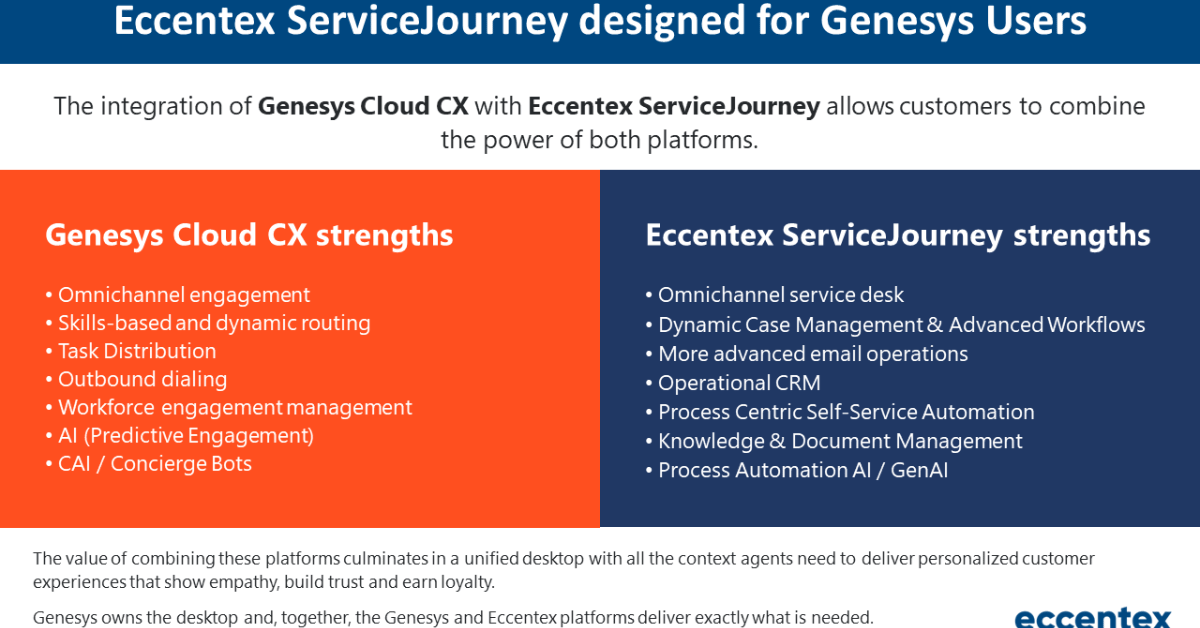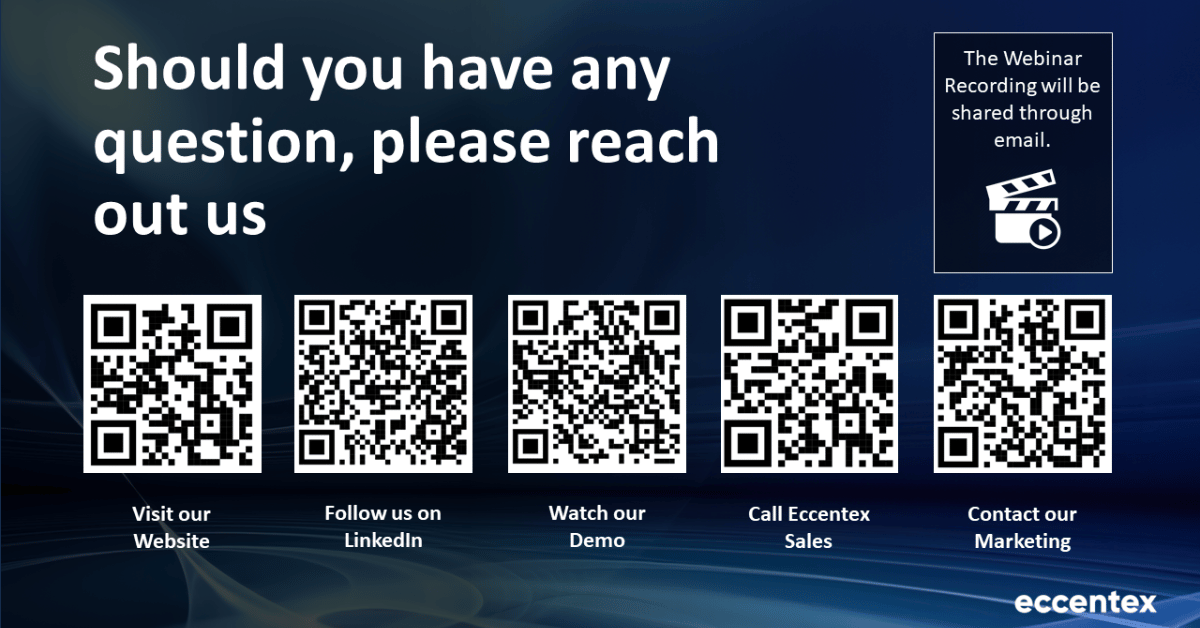 Discussion Topics
Conversation Manager by Eccentex
Omnichannel Task-Routing and Task Management
Managing Business Rules (Rule Engine)
Real-time BI/Reporting
Customization of APIs
AI Assisted Analytics
We kindly invite those using or evaluating Genesys, especially PureConnect and Engage, to learn about how Eccentex is adding new and exciting AI-assisted email and Case Management features to Genesys Contact Center users through seamless integration. 
During the demonstration, our product team will show case how Business Process Automation can connect all your interactions together with real-time task/case management. Eccentex is adding self-service, front office and back office related business process management to Genesys interaction management to orchestrate the customer's experiences across their end-to-end journey. 
Join Eccentex CMO Tibor Vass and VP of Product Maksim Gill, as they share best practices and demos based on real life use cases!
View Transcript
00:23
Tibor Vass: Good morning, everyone. Good evening, according to your time zone. Here's Tibor Vass, CMO of Eccentex. I really appreciate you joining us today for this live webinar where we're going to discuss how we support customers to implement an AI assisted email and case management solution, which is tightly integrated with Genesys Contact Center Solutions. And we have a co-speaker here, Maksim Gill, Vice President of Product, and we're going to guide you through on this with less PowerPoint and more live demo supported way. And I'd like to start just to very quickly introduce what Eccentex is doing together with Genesys.
01:19
They are basically the only one embedded dynamic case management platform in Genesys which can be inserted into the Genesys Omnichannel desktop in a standard iFrame, which means that the experience of the agents, and also the customers, through that it will be absolutely seamless. So even the agents will not really recognize that they are leaving the Genesys platform and working inside in the Eccentex HyperAutomation Cloud platform, because they are virtually seems like one single solution. That's a unique differentiator for us.
01:46
So how we deliver this experiences together, they are split the responsibility to doing the four crucial things together. They are assigning the resources based on the time when it needs to be assigned to whoever needs to be assigned a case or a task or any type of work items, which is the responsibility of Genesys, which means that the omnichannel part, that's channel management, the inbound interactions and also the assignment routing of case is task, it's the Genesys responsibility through Genesys cloud CX. And the Eccentex embedded in the Genesys desktop is responsible for who is doing what and how. And it means that the Eccentex responsible for the processes, for the procedures, for the business rules and so on and also let's say classifications, prioritization and everything which need to be done to properly handle a case or a task. And the unique differentiator of this joint solution is we are jointly delivering an end-to-end omnichannel customer experiences, which includes the only channel engagements and the only process engagement capabilities.
03:07
So regardless in which unit the agents are, regardless of what kind of data or procedures that I need to work on, we are always providing the same unique omni-channel experiences across a single unified desktop. So one of the most important feature of this platform is that this is including also the legacy platform of the Genesys solution.
03:33
So means that our integrations does not end that Genesys Cloud CX, it's also including Genesys Engage, regardless if it's on-prem or on-cloud, and also including the legacy platforms like Genesys Pure Connect. And it's also adding a low-code, no-code application development platform to the Genesys capabilities.
04:02
So whatever is developed, it can be further developed with a very easy, not really IT support needed way, which means that even the users can edit and adjust their workflow or create new procedures very easily through visual editors. And of course we are incorporating the extension to the IWD, the Intelligent Workflow Distribution Mechanism and also adding new features to it.
04:24
We can do very similar things like the legacy product of Genesys, the conversation manager did. We can automate further the workflows. We can add the knowledge and document management. It's all supported with AI features. So what Genesys cloud strengths are, we just not replacing any of them.
04:52
Actually, we are adding new features to it. And that's why we are jointly able to deliver the end-to-end experiences and also we can add operational CRM, process-centric service automation features. As I mentioned, the document and knowledge management is fully embedded and automated, and we are adding a different capability of the AI. But Genesys is more responsible for the conversational AI and both experiences, we are adding the process automation and generative AI capabilities to this mix.
05:22
Just to remember before the demo, what are the key core capabilities of the Eccentex platform, what is added on the existing Genesys Cloud CX platform.
05:33
the operational CRM, the Dynamic Case Management, including task distribution, and an advanced email automation, which is an enterprise-grade solution. It's including the workflow automation, tight integration between the email system and the Dynamic Case Management. We have a smart knowledge base. Why it's smart? Because it's embedding intuitive AI features which automate the agent and the user experiences.
05:59
We have the unified customer 360 desktop as we are able to pull data from various systems, business intelligence systems, CRM systems, any kind of systems where the customers data are stored.
06:19
We are adding AI assisted self-service portal where the customer is able to see the procedures, the handling of their cases, the current status and so on. And we also adding the document management features is also embedded in our platform, but we are able to connect to third party document management systems like OpenText ECM and so on.
06:48
So, and it's all supported with Eccentex AI services, which include 27 distinct AI capabilities, which is embedded in the platform and they're all supporting email automation, document management automation, prioritization, PII, personal information masking, and so on, a lot of other features, but you will see the details on the demo. And of course, we are able to connect the system through platform level open API to any other systems which communicates to the standard interfaces.
07:14
And here at this point, I would like to hand over the demo to Max. I will stop sharing Max and you can share your screen.
07:25
Maksim Gill: All right, thank you everybody. I'll share my screen here for a second. So.
07:32
You know, this presentation is going to be very focused around the Genesys environment, what value we bring to the Genesys environment here. And so what we really do is provide a task management, case management, CRM help desk system to Genesys natively within this environment. So, unlike many other systems that work with Genesys, where Genesys is just a side piece to it, perhaps a little widget.
08:01
of the Genesys call center within your ticketing system. We did the opposite. We embed our technology right into the Genesys desktop, which gives you a lot of benefits in terms of getting all the benefit, all the telemetry and all of the other benefits of the Genesys desktop, the ability to handle multiple calls at the same time, ability to see.
08:29
different apps inside of the same desktop, all the productivity tools that Genesys spent millions of dollars building. We take advantage of them. Here's an example of a use case where a customer emails a technical support question to a department. We see a rich email help desk solution right inside of Genesys.
08:58
And so we, what we do is we actually capture the email ourselves and we convert that email into a case. A case is like a very rich ticket. Think of like a Zendesk or a Jira ticket. This is just a more, you know, rich functionality type, more flexible type of interface for that. So our email case in this situation has all the, all the tools that an agent may need.
09:27
to respond to that customer inquiry. So there's a lot of things that help the Genesys agents better understand what the context of the question is. A lot of AI goes into all of this to help with triage and categorization. We'll talk about that in a minute. But let's look at this example specifically. So a customer has emailed the technical support saying they want to migrate from a Samsung to an iPhone.
09:57
They have a couple of questions. This is an 18-tier telecom. They have multiple questions here. Am I able to transfer photos? Plus, they also do other things like add their credit card number here. They're having trouble ordering the phone from the website. They would like, for some reason, a customer service agent to do something that shouldn't be done.
10:27
This person, perhaps, made a mistake and ended up putting their credit card number into the system. A couple of addresses here, and so a lot is going on here. Our AI engine takes this email body, and it is converted to a case. There are a bunch of things. First, it identifies the urgency of this. This is a high urgency because they would like this file to be delivered by November 30th.
10:56
We are able to do language detection here, as well as translate to over 100 other languages here, using a neural network. This all helps with triage, to make sure the right people are working on this case. Summarize either the original customer request or the entire thread. As a conversation evolves between an agent and a customer
11:25
a lot more information is going to be. A lot more questions may surface that weren't in the original email. And so we are able to summarize both on an individual level as well as the entire conversation and the basic things like sentiment analysis, again, to make sure a helper prioritization and perhaps you get the agent ready. Further down the line goes things like very business specific
11:53
type of categorization and triage. So here we've extracted the various entities that are involved within this conversation. So here we have the people involved here. We know the customer, Pat Thompson, we're some of the servers, Sarah Thompson is here as well. Contact information, addresses, organization, products, all of these things have been extracted and can be, are used both for, by the agent to help
12:24
quickly understand what the conversation is about, as well as help automated triaging, since all of this can be used to go to the right product team or to the right level of tier of support. We also have kind of advanced capabilities here like PII, the personal identifiable information detection and redaction. So if somebody does send in their credit card numbers, their
12:52
password number or something else, we have the option to redact it before it actually gets to the agent. And so we have it right here. Using all this information, we're tagging the case. And you can see this is just tags about this case. As the conversation evolves within the threads here, we are able to add more and more tags here. Now, again, these tags are used for a variety of reasons. One is automated triaging. Second is for post
13:22
reporting and aggregation. So if you want to understand further down the line, over the last couple of months, what were my top type of inquiries, you can see all that here through a reporting tool I'm going to show you in a second. In addition to all this information that we have here, Tibor mentioned our smart knowledge base. And the reason it's smart is because it is able to take the context of the case
13:51
where this knowledge base widget is embedded in and is able to surface that knowledge articles that are most relevant to that use case. So we know about the, we know what the customer's asking, but we also know more about the customer in general because we have as part of our product, a CRM system. And so we are able to know that this person has two types of products,
14:20
we know that they're located in this type of region, and therefore it doesn't make sense for us to surface an article about the hours of operations for the AT&T stores in Washington if they are located in Idaho. So we have all these things here. And this is our own Knowledge Base system. It's very comprehensive, and it provides ability to also integrate with different systems
14:49
and can rule leverage as either a standalone knowledge-based system or as one embedded right into this.
14:59
So in terms of how this is all integrated with Genesys, as you can see, it's screen pops right into the Genesys desktop. So when a new conversation occurs, our system will, when a new email comes in, our system will pick it up and we'll either create a new case or attach it to an existing case and then route it to Genesys. And so a customer service agent sitting in Genesys will just receive
15:28
this screen, screen pop to them just like a phone call or chat or anything that's completely seamless. They may not even know they're working within the Eccentex app. It's all very integrated. They can handle multiple emails and conversations at once. You can barge in. So if a customer is working, if a user is working on a email that's medium priority and a phone call comes in as high priority, they can barge in.
15:57
there and screen pop that. So all of those advantages that Genesys offers, the fact that we embed right into Genesys is, provides you all of those capabilities that are necessary for a medium to large size product. I mentioned that we have a lot of AI here. So one of the cool things we have is a reply, all email things. So as an agent that's looking at all of this, they will look like we need to reply to something.
16:25
We have a good authoring tool, which provides many cheaply expected authoring tools. Along with AI, we also have the Generate AI Response capability here. We can train a large language model against your knowledge base, your existing policies, procedures,
16:55
Combine that with the general knowledge of an existing warranty model system like a ChatGPT-like technology. And so what we can do here is we can give the system a prompt to respond, to provide a sample response to the customer's inquiry. So if you're saying answer the customer's questions, and because I ordered their iPhone somewhere else, already I will, through a system, I will have the
17:25
BS tracking number, and I want them to be embedded in email. So I can just generate response, and it will very quickly generate a sample response here. And you can write it, give it more instructions if you want to have links or provide detailed instructions which you want to respond to. And this will all be right here. So this provides a lot of other capabilities such as providing a response to different languages,
17:51
which can also be helpful if you're running a multinational support organization, you may not have a customer service agent who speaks a specific language, or they are busy. You can have the person first read the email here in whatever language that's most convenient for them. They can respond here as well, or have the system translate whatever they wrote here in English. Or whatever language they're working with. Very comprehensive.
18:21
All this information he are managed conversations within Genesys, so all the performance statistics and all the other stuff that you may already be leveraging within Genesys Reports and performance would all feed right into that so you don't have to have a separate whole strategy for those type of things. Now part of the additional items here is the CRM so as we are receiving
18:52
emails or chats or phone calls, our system has a built-in CRM system, similar to a Genesys external contact system, except providing a true CRM experience, typically for service-centric use cases. So this is our CRM. It provides a 360-degree view of the customer that you are speaking to. So this…
19:19
You can see the member details. You can see all their, you know, fun stuff, all the products that we can. This information can either live within our system, or you can, you can see that information into here from an external system, like a SAP or the billing system or your border management system, or wherever it is you want, you can feed that in here.
19:43
You can see all the account information here as well, which you can also configure to your specific business. I've configured this as a Costco style retail business, but you can easily do that for whatever company you work with. And I can show you how that's done, but it's very extensive and customizable here. So everything you see here is all through there. And so you can see all there, pretty much anything you want about this.
20:12
with, and along with offers like AI driven recommendations and that's the next best actions. When a phone call comes in, we also have the option of screen popping this customer profile page. So if an email comes in, you may have an interface like this, a chat or phone call comes in, we will instead screen pop this type of UI right into the Genesys desktop. So you get that rich customer look and feel.
20:42
Oh, you know, regardless of the channel that you're working with on Genesys, from a, you know, an email standpoint or any type of, well, once you're inside of a, of a Eccentex page here to screen pop, you can do things that create additional cases. So during the conversation, you may have different, you know, the customer may have a complaint, they also, they might want to file it and they also want a, a refund and so you can start kind of creating these
21:12
cases right here, and these cases can either be automatically resolved by the agent working on them right now, or if it's a more complex type of case that requires a follow-up, this case will go into a back-office type of queue. This back-office work can be done outside of Genesys, but it's visible to all the Genesys agents.
21:39
So here we're just finishing up here. We have a lot of other capabilities that are very specific to Genesys. So one important thing is the ability to see all the conversations. Outside of the Genesys, there's a special portal for supervisors and from back office worker that give you insights into how the Genesys operation looks like that you're working with.
22:08
So you can, as a supervisor, you can log in, and you can see all the conversations that have been created are related to the Eccentex platform. So any emails and phone calls, anything with integrated with our product, you can pretty much see all the conversations here in this very searchable report that's real time here. So…
22:35
I can, I write from here, I can do things like transfer this conversation to another queue. I can reassign this agent. I can force disconnect. So I have a lot of supervisor capabilities here that may not be that transparent within the genus environment, but this is all very customizable. So if you want to have a special type of set of actions for your genus environment, you can put it in here as well. And you can search across.
23:00
very easily if you want to say, you know, all the conversations that are currently in this queue or are involved with these set of agents or are related to this case or whatever you want, you can do that super quickly here. You can then enter any of these conversations and you can see what cases or what customers are related to. You can actually open those CRM pages, those cases, those emails that were related to that
23:29
conversation, you can kind of backtrack and see, you know, you know, everyone who was involved in this, you can see the context. Which gives you the list, you know, what case this was involved with the customers involved with all that good stuff and entire history of that conversation. So you can see, you know, why was this case? Why was this conversation initiated? Who answered it? And you know, what, who disconnected with what wrap up code you can see all that right.
24:01
We also have more of an advanced reporting tool that gives you a more of a holistic view of your Genesys help desk or case management system. So this is all very customizable to use case, but we come with a few out of the box pre-canned reports and dashboards that are helpful for a for your Genesys contact center. And these include things like all the cases created.
24:29
the last two months, all these very nice widgets you can then filter down with and things like that. So a very rich type of reporting capabilities here. In terms of how all of this is configured. So the thing that separates us from some of the other vendors is that everything you see here is customizable, configurable to your exec usage. So all the buttons up here.
24:59
all of the actions, the tabs, the information that you're shown about the customer, you know, the type of cases that you can create, the sub cases you can create, or the router rules, or what AI is doing, is often configurable from within our setup pages here. So let me give you an example of how the customer service model, the customer data model is configured. So this is the customer data model
25:27
that you saw when I showed the customer the CRM page for that customer, we modeled the entire customer right here as relational tables here that may or may not, whose data may or may not exist within our system. So I have a part of your customer here and I have all their contact information or social media things that we handle within our product. You can see that, you know, the sole numbers, the various columns that are involved within these tables.
25:56
But then they also have sales orders or restaurant reservations. So we model, we say, you know, which columns are available within this system, what they're related to, but we don't necessarily need to keep that, we don't necessarily have to have that data within our system. This is just modeling how this data looks like, but the data may live in a different system like SAP or IBM or somewhere else. And so we have a tool of synchronizing this data back and forth between your core system and here.
26:23
And the reason that's important is because if you do model it here as any other object, then you're able to create things like forms around this, or you can create detail pages around all this. And so you can see all the fields that you've considered here about your customer. You know, they're all available here within the detail pages, within the search grids, reports, all these things. Just because you've modeled it there,
26:53
consume that information. And so what would happen is that typically your, you know, the partner or IT team would configure, you know, this type of data model, and then the business can go leverage it for whatever needs they may have. So when I talked about the case management, task management side of all of this,
27:23
we are truly a comprehensive case management task management system. So this, what you've seen here is an email case, but it may as well be a help desk inquiry for that where a case is initiated from a poor customer portal, or it could be a fraud investigation case or a claims case where somebody creates a claim and then…
27:52
these tasks, like a claim adjuster or a claim review person sitting in Genesys and we route them a, a non-real-time piece of back office work. And so when we create these cases for people like complaints or something that needs to be processed by, you know, not a, not a Genesys media call, but still by agents who are, let's say having downtime.
28:21
in between real-time calls, you can route all these various tasks to these agents, and they will also see those tasks right here. So those of you interested in, let's say, an alternative to IWD or are waiting on more advanced task management capabilities, we provide that functionality out of the box for you.
28:47
So, you know, going back to some of the other configurations here, we have a lot of capabilities around investment, around how we actually integrate with Genesys. So we are very deeply, we're probably the most deeply integrated case management and ticketing CRM system for Genesys across all of their product lines. So whether it's Engage or Pure Connect or Cloud.
29:17
Know, we have a lot of things here. So we can, we can say, you know, when a call is handled, how, what do I want to do? They'll want to show them a customer detail page or do something else. If I have a chat, what do I do if I don't find it's the customer doesn't exist in my CRM? What do I do? So all of these are often figured right from here very conveniently. And it's further shows up here as an app.
29:45
as an AppFoundry Premium app and so this means that it's all managed through the Genesys environment, and it's very convenient for onboard users and you don't have to install anything. It's not really all that difficult to do. So this is the comprehensive capability of the product here. We have a…
30:15
A couple of other interesting capabilities that are just coming out, is if we go around, let's say a solution inventor or other convenient ways for you to configure our product out of the box. And so, as I showed you the configurations, we have workflow builders, we have many other tools here that provide new capabilities to, you know, build the use cases specific to you. But one thing that we found is that…
30:44
we can use AI to actually generate a initial MVP version of your entire solution, right from our setup here. So I can say, you know, I can buy a lot here, buy this one here, I'm creating a complaints case manager system for a clothing retailer. And what this has done is actually has created for me an initial MVP of my solution. So that's created me a case type, writing on multiple case events,
31:14
There's a product quality complaint, which automatically creates you the workflows for our system, the resolution codes, the form fields that people involve, which then become your CRM systems or your internal systems like that. Then we have a set of reports.
31:40
reports, product complaints, reports, so all these complaints are specific to your use case, we automatically generate those as well. And we also have email templates and a bunch of other things that are very useful for your exact situation here. And then once these are created, you can go and you can modify these inside of a, inside of the standard setup.
32:10
So just quickly switching gears, here I want to show you another little example here. This is also a case. This is called a DBQ ISO case. It's similar to like a benefits request type of case. And this is a more comprehensive case management system built on the exact same platform. And you can see this can also be embedded right into Genesys. So when I was talking about the ability for us to screen pop non-real-time
32:39
work to agents or people sitting within the Genesys environment, this is what I was talking about. You can actually have very comprehensive cases. They're not a phone call. It's not an email, not a chat. They get routed to these people. And so this is, you know, again, completely or completely in our product. You can see that there's a vast difference in how this case looks like as compared to the email help desk use case. So…
33:07
all the same platform, this demonstrates that we have a lot of customization capabilities that can fit your exact use case. So in this situation, I'm just going to, I can show everybody who's involved in this case. I can see all the tasks related to this case. So within the Genesys world, we can route these tasks individually. We can route the entire case to agents.
33:36
Or we can route individual tasks, sub-tasks, that are related to this case. The reason I'm showing you this case outside of Genesys is because this case can be screened… outside of Genesys, but similarly, back-office workers have access to the exact same case. You don't need to be a Genesys user to have access to this system.
34:04
If you're, let's say a back office employer or supervisor, who's not typically working with the contact center, but are nonetheless involved in the processes, you can also have it here. We have our own built-in inbox here, chewing system for back office. And the tasks here are very comprehensive. You can see that they have their own SLAs here. They have state moms. You can see who's the owners of all these things.
34:33
Now, ultimately we come with a lot of capabilities here that may be useful for you, seeing an entire audit of how a case was resolved across multiple conversation. So if you have a case that's long running, that involves calling back and forth between the customer multiple times, emails, get that omnichannel experience to resolve that customer journey, you can see that entire history of this, why was this case created?
35:01
When was the first time the customer got in contact with the agents? What steps were taken by the agent? When was the second time they called back? And all of this is audited here. This then can have all sorts of benefits of reporting and reactions and a bunch of other stuff. A lot of other cool capabilities, like document management here, that we're loading here.
35:29
They give you all the images or any documents that the customer may have sent all available through here as well. So really enriching that Genesys environment here, uh, with all these CRM in case of merit. I'll turn with alternative. We've seen other customers have, but they don't have a system that's unified. Like ours is they'll have maybe five or six different separate systems running. And agents are literally just have
35:57
six different browser tabs are also a thick client on their computers and they're cooking between a bunch of apps, copy pasting things, looking things up. The customer may be identified by Genesys, but they have to go to five different systems and copy paste that customer's account number and try to find them. And it all adds up in terms of time and the ability to make the mistake adds up.
36:27
So something that we really want to avoid here, which is why we provide this unified type of view. So, you know, as we discussed, the unified views can be configured right from the set of things. But what we didn't talk about is the ability to configure the workflows as well. So there's a lot of configurations here. It's all, there's, you know, it's probably
36:53
hundreds of various configurations that are super useful for making sure you get the exact things you need, from letter email templates to triage rules to rule builders and a lot of fun stuff here. But you have, let's say, workflows right here. So you can say, here I have the workflow of a case coming in. And this is, you know, a
37:20
full view of what the case lifecycle may look like. It's a pretty complex one. And you have events here like, all right, when this case is at the client gathering records, I want to send this to Genesys. All right, what queue do I send it to? What skill sets? What else do I want to do here? And so it becomes very intuitive here.
37:47
And then you can say, okay, let's say this case has not been picked up or resolved within a timeframe of three hours or four hours. What happens next? Well, I can reassign that case. I can change the case priority. I can send an email notifications to my manager. You can kind of start creating a type of distance use cases right through here. And everything you see here is, you know, we're very well integrated with Genesys and provide a lot of reporting capabilities back to Genesys.
38:17
So you really get that comprehensive system for all of this. You know, in terms of other interesting types of configurations here, you may have a, a rule builder here, a lot of rule builders. This is just specific once an email, but it won't affect any type of case an email comes in. I want to say that if the language is net English,
38:46
but the sentiment is negative and the customer or the patient in this case is in network then I want to do the following things, including things like send this case to this queue. So you can also start triaging on the email body or the case content as well. So, you know, a lot of, so I want to finalize here that everything here is really.
39:15
based on a deep integration to Genesys. So you have the benefits of a very flexible low code, case management and CRM system that can be run completely on its own or deeply embedded within Genesys, providing a lot of benefits that you may not get from other systems. So finally, how this is offered. So we have, this is an AppFoundry premium app.
39:46
Depending on the use cases, there are multiple tiers of what features you want to have. But the deployments of this solution are fairly quick. They can be start off, if you're still on Engage or Pure Connect, and you want to start from there. Then you want to migrate to Genesys Cloud, say in a year. You can actually have our system running.
40:13
Similarly, the way you have a running Genesys, I can run a similar to Engage with your Connect. And then when the time is right, when you're ready to migrate, you just make the switch over to Genesys Cloud. So there's a migration path that's fairly simple that let you start taking advantage of the example technology right now, get used to it, complete all the necessary steps to get it embedded into your business processes. And then,
40:42
when you're finally ready to do the migration to Genesys Cloud, you know, it's a rather seamless type of migration. So your agents will get pretty much exact same experience as they would engage. All right, I think that's it for my time.
TV: Thank you. Thank you so much, Max. It was amazing demo as always. And if you allow me to share my screen, I'll just quickly show how the customers or prospects can reach out to us.
41:10
And here at Eccentex, we are always concerned with feedback to any questions you may have. So if you have any, feel free to reach out to us. You can visit our website, you can follow us on LinkedIn, you can watch our demos or call our sales team directly, or contact even our marketing team if you need any support.
41:32
So of course this webinar is recorded, so when we will share the link back, so if you're not able to attend or you'd like to review the webinar, we will get a link and you will go to our YouTube channel when this webinar will be enabled. Thank you so much for participating today. And as I said, if you have any further question, we'd like to organize a more detailed tailored demo which is specifically fit for your organization
42:01
or your company needs, do not hesitate to reach out to us. Thank you so much for your time and enjoy the rest of the day. Thanks. Bye.