Do you use Genesys? See how ServiceJourney elevates your CX to new levels
Smart Knowledge Base
A single source of truth that promotes self-service and empowers your contact center










Help customers find answers on their own, guide agents, and provide a single source of truth for every department.
Problem
Content is often scattered across team-owned knowledge bases, PDFs and employees' "tribal knowledge." Not only does this inhibit your customers' ability to find information but makes it increasingly difficult for AI, chatbots and employees to suggest articles to them.
Solution
Smart Knowledge Base is an AppBase application for creating, consolidating, and promoting content to your customers and employees. It works as a stand-alone solution or can be integrated into your contact center, CRM and service desk software.
Why Smart Knowledge Base?
Drives customers to self-service
With easy-to-find answers, your customers will solve problems themselves reducing the number of tickets or calls you have to answer.
Shortens call-handling time
Help agents keep conversations short and accurate with knowledge that's served directly from inside your contact center software.
Speeds up onboarding
Employees get up-and-running fast with a single place for them to find all the knowledge they need.
Your service knowledge hub
Ensure customers and agents can quickly find the most useful information by eliminating the need to search multiple locations for content.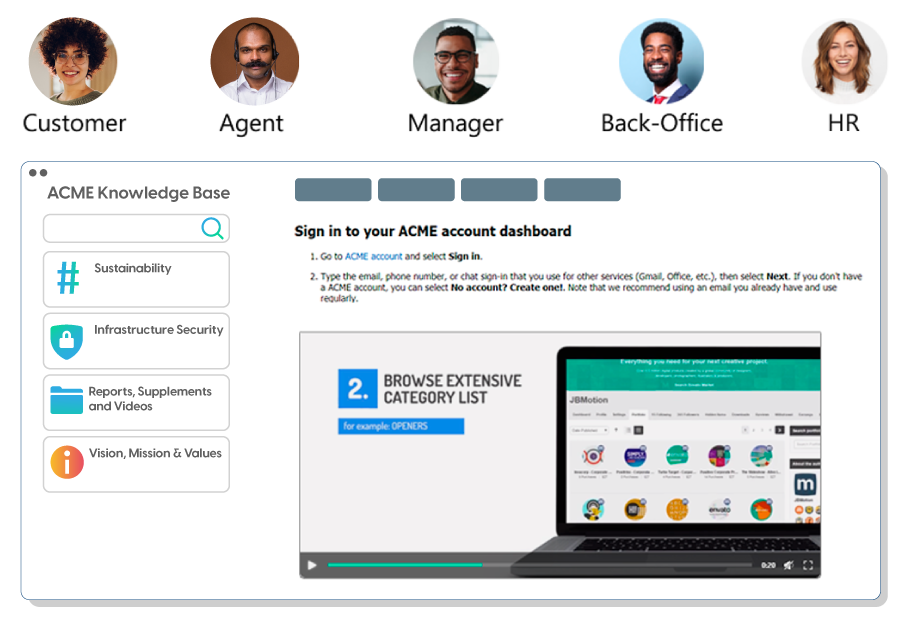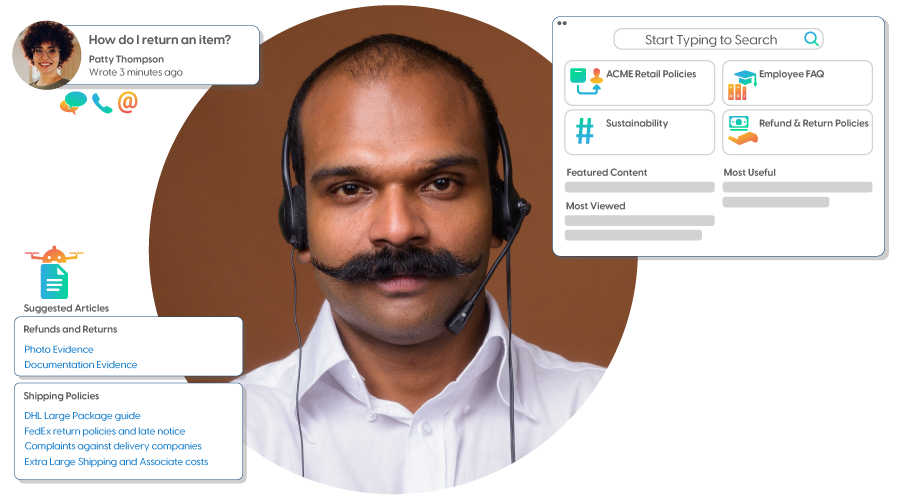 Find and deliver answers fast
Powerful tools to help customers help themselves and for agents to be productivity superstars.
Create content with ease
Get started by migrating your legacy knowledge base, then continuously enhance knowledge with powerful editors and governance tools.
Features your team will love
Everything you need to run your service department.
Publish rich content
Provide easily consumable content such as videos, documents and pictures, or go further with custom HTML, CSS and rule-driven content.
Search in real-time
Deep search the entire knowledge base, and not just article titles, thanks to a powerful engine that returns context-aware results.
Integrate everywhere
Embed articles into your customer portal, agent desktop, CRM or ticketing system.
Manage multiple spaces
Centrally manage and brand content for different product lines, departments, audiences and roles.
Build confidence with feedback
Track the performance of each article by allowing readers to rate your content and provide feedback.
Improve with knowledge insights
Identify the most important information, and spot gaps and emerging trends.
Control the article lifecycle
Improve information quality and accuracy with approval workflows, archival policies and knowledge access control.
Create with Microsoft Word
Make it easier for people who prefer a desktop writing experience to create articles with Microsoft Word.
Suggest useful articles
Provide relevant answers based on a customer's recent transactions, their open tickets and other contextual data.
Screen-pop to agents
Preload the customer's profile inside the agent workspace overlaid with articles relevant to the agent's work.
Enterprise-grade knowledge management
Ideal for mid-sized and large organizations that need an end-to-end solution that meets their unique needs.
Multi-lingual
Support a global audience and worldwide workforce by creating articles in multiple languages.
Multi-brand
Customize the look and feel for every one of your brands and products. Automatically serve content under the right context.
Contact-center ready
Boost FCR by suggesting articles during a call or chat, right on the agent's desktop based on the customer journey. See an example.
Get in touch with experts
The first step in digital transformation is understanding your existing capabilities along with your vision.