Energy & Utilities
Break organizational silos and streamline operations across power generation, transmission, distribution, and retail.


Digital utilities under one platform
Capital Projects
Manages people, processes, documents and approvals for construction and maintenance capital projects across all utility business units.
Land Use Permits
Acquire and maintain Right-of-Way permits and ensure environmental compliance. Generates legal documents and automatically triggers new documents when legal-sensitive data about transmission networks are changed.
Technical Service Management
Track repairs done on pipes, collect proper documentation and initiate GIS updates. Help field engineers verify laboratory/sensor readings and recent repairs. Learn More.
Network Changes & Repairs
Remove data silos by easily configuring data models that provide accurate and complete information about your customers, products, assets, core data and more.
Customer Service
Encourage self-service with proactive, personalized support that predicts the customer's needs. Offer a seamless service and a completely branded experience on every channel. Learn more.
Incident Management
Quickly solve problems and propose, investigate and approve changes to maintain operational excellence. Collects documents and distributes tasks throughout the organization.
Modernize on a single platform
Build flexible enterprise-grade apps that streamline digital operations, leverage your data to create engaging customer experiences, automate repetitive tasks, and more.
Connect your world
Integrate it with your database, API ecosystem or any systems of record easily, so it can consume the data and business logic to build modern interfaces enabling innovation.
Stay compliant anywhere
The more you can see, the more you can do. Securely connect all of your data and decide who can view what, and where.
Don't let fragmented systems

impact asset uptime
Employees lose time finding people and information, getting approvals, redoing work, and traveling unnecessarily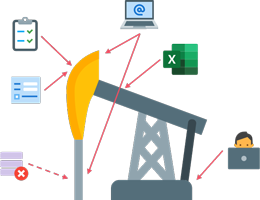 Asset data gets lost inside legacy apps, Excel files, & emails, and extra work is required to locate it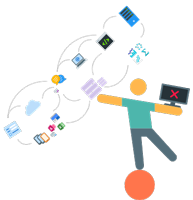 IT struggles to update systems without breaking other ones because of the intricate integrations
Get in touch with experts
The first step in digital transformation is understanding your existing capabilities along with your vision.