Government
Create a citizen-focused organization with solutions that connect agencies, adapt to change and provide actionable insights





End-to-end Case Management
Support both structured and unstructured work by automating workflows, surfacing relevant information when human intervention is needed, and distributing tasks to the right teams, departments, and individuals. 
Citizen Experience
Provide consistent, context-aware service even as constituents switch between phone, email, SMS, chat and social media.
Citizen-Developer Ready
Configure and deploy a full range of applications — from ticketing apps to critical business systems — fast, right, and for the future on the award-winning AppBase Low-Code Platform.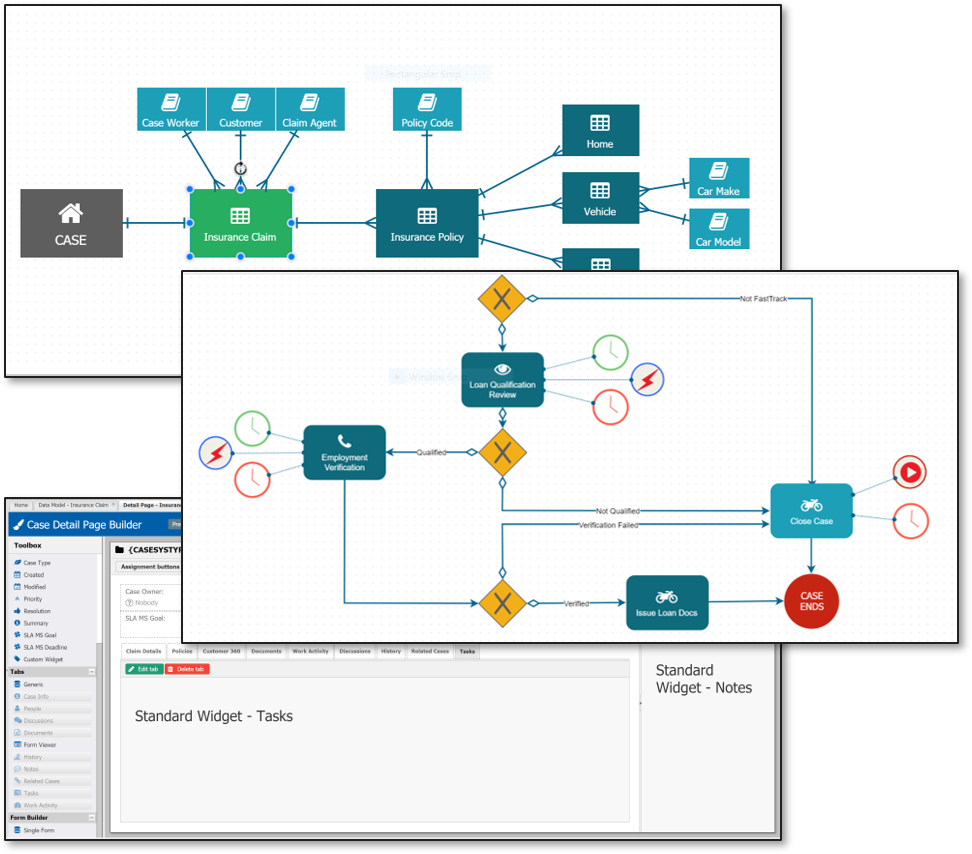 "We wanted a system for multiple users to have the ability to quickly access and process a substantial amount of data from one centralized database in real time. Eccentex designed a secure case management system which has enabled us to manage the litigation process more efficiently and streamline operations."
Harris County Appraisal District
What can you make with AppBase?
Litigation Case Management
Streamline the litigation process across all involved defendants, courts, law enforcement and attorneys. Initiate cases from related systems to provide the identity of the lower courts, case titles, case numbers, parties, and attorneys from the district courts. Learn more.
Tax & Appraisal Appeals
Drive digital transformation with a legal case management application designed specifically for appraisal and assessor offices. Put matters in the hands of the right people at the right time by connecting teams, functions and systems across your organization. Learn More.
Workers Compensation Claims
Manage and track a wide variety of workers' compensation claims. Collect medical evaluations, compensation board decisions, treatments, medications and other evidence. Communicate directly with the plaintiff, employer and agencies.
Omnichannel Citizen Service
Provide a consistent, context-aware service even as people switch between phone, email, SMS, chat and social. Solve constituents' problems by bringing the front, middle, and back offices together. Learn more.
Complaints & Dispute Resolution
Resolve complaints efficiently by triaging and assigning customer complaints to the right people. Leverage case management to track the complaint as it moves throughout the organization.
Investigative Case Management
Ensure accountability and increase the effectiveness of the case from intake to completion, as well as all the steps in between including journals, e-forms, email, video, etc. in a logical and trackable way.
Government Purchasing Vehicles
Streamlined procurement options for US Federal, State and Local governments.
Product Capabilities Overview
AppBase is a comprehensive platform for case management, automation, forms and more. 
Case Management Case Study
See how FairWay Resolution used AppBase to deliver digital transformation during a pandemic.
Get in touch with experts
The first step in digital transformation is understanding your existing capabilities along with your vision.